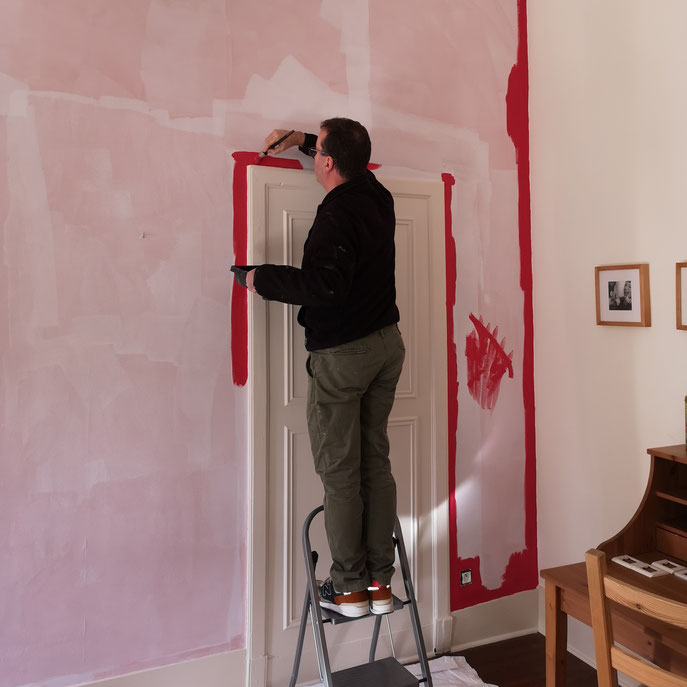 "Time is a sort of river of passing events, and strong is its currents; no sooner is a thing brought to sight than it is swept by and another takes its place, and this too will be swept away"
Marcus Aurelius
It's a cold and wet winter in St Antonin and while the rain is welcome after our very dry summer, it's given us plenty of time to get on with our indoor winter jobs ready for next season.
We have settled into a cycle of being very busy with guests during the summer months, then concentrating on decoration and improvements once everyone has left, before a holiday. 
Although this is pretty much what we imagined before plunging into our new life it still feels a little strange. It's the rhythm of our time that's changed so much. I'm sure we all have ways of marking the passage of time, calendar years, school years, significant anniversaries. For me as a former finance executive, it was financial years, for Richard as a sports lover it was the Australian sporting calendar. For us now, its tourist seasons and we have completed our second.
This change been an interesting process of adaption. When we have guests and must get up to make breakfast or have new guests arriving and need to make sure that the rooms are as they should be, we just do it. These are calls on your time, determined by others, that you must accede to, just like working in any large organisation.
It's when there are no deadlines that plans go awry. That extra half an hour hour in bed because there's no breakfast to make or starting the decorating tomorrow because we've got weeks and weeks before we open again is our Achilles heel. This happened last year and meant that we had a very lazy and unproductive winter but a frantic spring.
This year we have been a little more disciplined and got our winter work underway promptly after the last guests checked out.
For those of you who have visited already you'll know that we completed the redecoration of two rooms last year and set about stripping out some of the garden that was becoming a little overgrown. We've continued again this year with the redecoration of another two rooms and further changes in the garden.
The four-poster room is now bright and comforting after a refresh of the white walls and the addition of a gorgeous, warm cherry red feature wall. Neutral coloured curtains mean that the colour of the chairs in the seating area and the feature wall are accentuated and blend beautifully.
The other room is the one at the front of the house with the twin beds. The single beds have now gone, and we have a new super king size bed that separates into twin beds if guests prefer. The walls are now a clean fresh white, with a green crushed velvet headboard and gold brocante curtains.
Again, we decided to match the decor to the beautiful French gold and green chair already in the room. After re-staining the wooden floors and rehanging the Gauguin prints the only job left to do is re-guild the large mirror over the marble topped fire surround.
The garden has undergone a much bigger change and it remains one of those jobs that's going to continue for a few years.
In the bottom corner of the garden we had two large cedars and a conifer tree, all at maturity and higher than the neighbour's roofs. These were removed in December leaving a very bare garden. Last summer we spent a lot of time planting the garden but the area around the base of the trees was always in the shade and impossibly dry – nothing would grow, including the ivy which grows everywhere else and is a constant battle to control.
The result is that the garden feels much lighter and bigger. The challenge now of course is to start again, redesign the space and get planting. We'll begin with some larger frost tolerant Mediterranean plants and for this year and plant around them with seeds and tubers collected from our garden last year. There are a few local plant and seed swaps organised in the area in the Spring and we hope to diversify our planting by swapping some of our stock.
Living in such a big old house, there is always work to do and we want to be sensitive to the history and style of St Antonin, whilst giving guests a relaxing and comfortable stay with modern bathroom facilities, a pretty garden and a great service. We love getting feedback from our guests, especially gardening advice and look forward to welcoming returning and new guests this year.
If you'd like to come and visit us and see the changes for yourself, booking your room directly at www.laresidence-france.com is 10% cheaper than any online travel agent.
Best wishes
Lisa and Richard