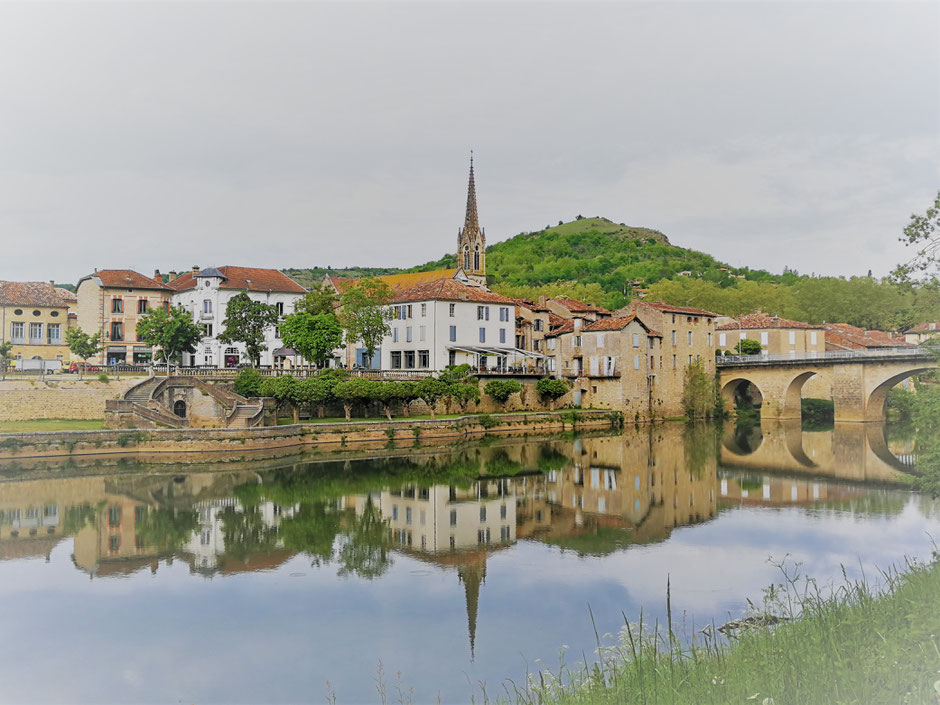 St Antonin Noble Val has been our home since July 2018, when we purchased La Résidence, a boutique bed and breakfast, a few minutes walk from the centre of the village. We love our relaxing life here, in a quaint medieval village surrounded by beautiful countryside.
Here a list of 10 fascinating facts you'll want to know about St Antonin Noble Val
1.   The village is named after Antoninus of Pamiers, a Spanish missionary who brought Christianity to the area circa 305. He was martyred in his home town, where he is now the patron saint of Pamiers, Palencia and Medina del Campo. Legend says that after he was killed, his head and other body parts were carried back to the village on a boat with the help of two white eagles. The stained glass windows behind the alter in the church depicts his story. The stained glass windows in the church were also the inspiration for our logo at La Residence.
2.  For the movie enthusiasts, St Antonin Noble Val was used for the setting for the 2013 film The Hundred Foot Journey starring Helen Mirren and the 2001 film Charlotte Gray, adapted from Sebastian Faulks novel. 
3.   St Antonin is located on the confluence of the Rivers Bonnette and Averyon which means that some parts of the town is prone to winter flooding, difficult to imagine in our long hot summers. Look for the markers on the walls and doors of houses in the lower part of the village to see the height the waters have reached.
4.   A leather trade dating back to 1260 was economically significant for St Antonin. It was made into clothes and other everyday items and the tannery baths can still be seen today. As you walk along rue Droite where La Résidence is located you can often hear the rushing of water. This will be the old man-made water channels that run under the village which diverted water from the River Bonnette to the local tanneries.
5.   Both the leather trade and wool trade, as well as requiring lots of water also needed large storage areas. As you walk around the town look up to see the open sided roof lofts where villagers would dry and store leather, fleece and fruit.
6.   St Antonin was the location of an Abbey, originally built c.817 and renovated by the Benedictines in 1150 but later destroyed in the war of religion. While there is only the Abbey wine cellar to see today, columns, carvings and other stone work was taken from the destroyed Abbey and used in house construction around St Antonin.
7.  The forests that surround the area are relatively young. Wood such as Oak, Elm and Ash were traditionally used by the military and housebuilders and meant that locals trees were taken as building materials. As you walk around the village you can still see these huge wooden beams used for house building. While La Résidence has a modern roof, there are some huge old wooden beams holding it up,  showing the cutting marks made by carpenters.
8.  You can see walnut trees growing wild in this area of France because Walnut trees thrive in the limestone and clay soils. St Antonin's Walnut Mill still operates twice a year and was used to produce oil and pulp for cooking, soap making and fuel for lamps. Some of these old lamps can still be seen in the lower part of the village.
9.  The first Cadastre Plan (land registration plan) of St Antonin was surveyed between 1808 and 1839 and shows that La Résidence was in fact three houses. In our now walled garden where we serve breakfast and have drinks in the summer, there was another dwelling. Although we are not sure what it was used for, you can see parts of an old wall in the lawn and a change in the stone wall roughly where property would have been. With no sewage system and a highly populated village, it must have been a pretty smelly place to live!
10.  As well as fascinating history, St Antonin is a great place to make your base and explore the region. In less than an hour drive from us, you can see two UNESCO heritage sites, hilltop villages, and first class art galleries and museums as well as French markets galore.