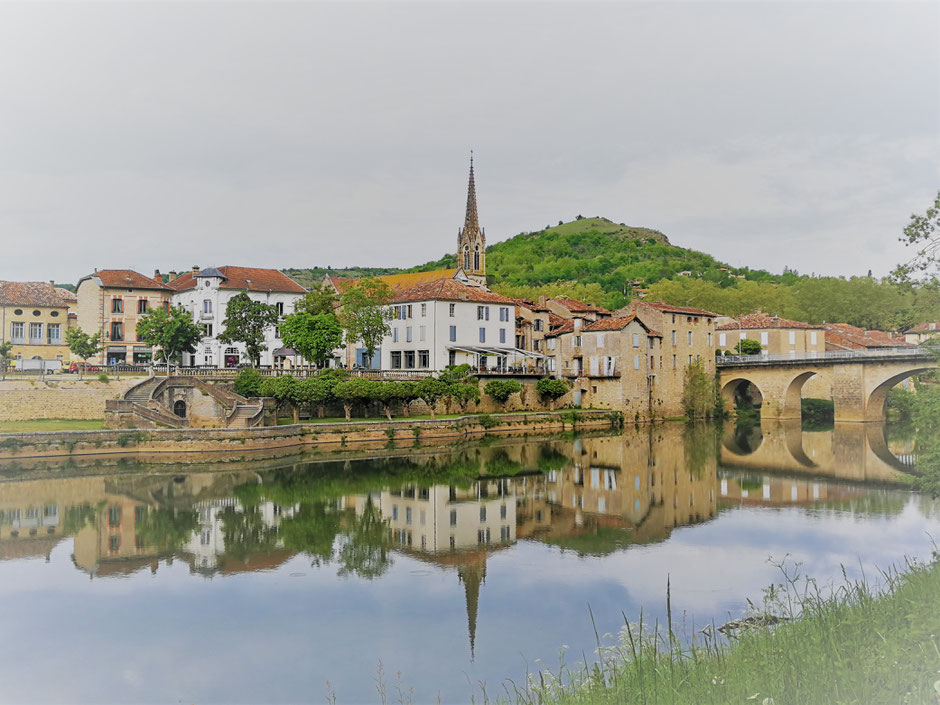 Since July 2018, Saint Antonin Noble Val has been our home as we embarked on our journey as the proud owners of La Résidence, a delightful boutique bed and breakfast. Nestled just a stone's throw away from the village centre, our quaint medieval haven in the heart of breathtaking countryside has become our cherished home.
Now, prepare to be captivated by these eleven enthralling titbits about Saint Antonin Noble Val:
1.      A Saint's Legacy: The village derives its name from Antoninus of Pamiers, a Spanish missionary who introduced Christianity to these lands around 305 AD. His martyrdom in his hometown bestowed sainthood upon him, making him the patron saint of Pamiers, Palencia, and Medina del Campo. Legend even tells of eagles assisting in the transport of his remains back to the village, a tale beautifully depicted in the stained-glass windows adorning the village church, which, in turn, inspired the emblem of our beloved La Résidence.
2.      Silver Screen Stardom: For cinephiles, Saint Antonin Noble Val may seem strangely familiar, as it graced the silver screen as the backdrop for the 2013 film "The Hundred Foot Journey," starring the illustrious Helen Mirren, and the 2001 adaptation of Sebastian Faulks' novel, "Charlotte Gray."
3.      Rivers Confluence: Situated at the confluence of the Bonnette and Aveyron Rivers, parts of the village are prone to winter flooding—a stark contrast to the long, languid summers that grace the region. Keep an eye out for markers on the walls and doors of lower village houses, revealing the heights reached by these waters.
4.      The Leather Legacy: Dating all the way back to 1260, the leather trade was a cornerstone of Saint Antonin's economy. The old tannery baths, still standing today, echo with the distant sound of water—a reminder of the intricate man-made water channels that once directed the Bonnette's waters to the local tanneries, found along rue Droite, where La Résidence resides.
5.      Storage Stories: Both the leather and wool trades demanded ample storage space. As you wander through the town, cast your gaze upward to the open-sided roof lofts. These lofty spaces once served as repositories for drying and storing leather, fleece, and fruit.
6.      Abbey's Remnants: Saint Antonin once hosted an Abbey, originally erected around 817 and refurbished by the Benedictines in 1150, but alas, it fell victim to the ravages of religious conflict. Today, only the Abbey wine cellar remains, but the columns, carvings, and other stonework were salvaged and found new life in the construction of local houses.
7.      Timber Testaments: The surrounding forests, surprisingly youthful, bear witness to the past. Oak, Elm, and Ash were coveted by the military and builders, leading to the felling of local trees for construction. As you amble through the village, observe the colossal wooden beams supporting the houses, revealing carpenters' cutting marks—a testament to the village's history.
8.      Walnut Wonderland: Walnut trees thrive here, their roots entwined with the limestone and clay soils. Saint Antonin's Walnut Mill, still operational twice a year, once produced oil and pulp for cooking, soap making, and lamp fuel. Hints of this history linger, with antique lamps from the era scattered about the lower village.
9.      Historical Homestead: The first Cadastre Plan of Saint Antonin, charted between 1808 and 1839, reveals a surprising detail: La Résidence, our home today, was once three distinct houses. Our walled garden, now a serene breakfast and drinks venue in the summer, was once another dwelling. Though its exact purpose remains a mystery, traces of an old wall in the lawn and changes in the stone wall hint at its presence—a place that, in a time without sewage systems, must have had its aromatic challenges!
10. Sunday Splendour: On Sunday mornings, Saint-Antonin-Noble-Val comes alive with its vibrant weekly market. An enchanting array of local delights awaits, from fresh produce to artisanal crafts and traditional French treasures. It's an immersive journey into local culture and a chance to savour the region's culinary delights.
11. Gateway to Exploration: Saint-Antonin-Noble-Val serves as your ideal launchpad for exploring the wonders of the region. Within an hour's drive from our doorstep, you can discover two UNESCO heritage sites, enchanting hilltop villages, world-class art galleries, museums, and the quintessential French markets. This village isn't just a home; it's your portal to a world of exploration and adventure.
 Of course, if you'd like to see our beautiful town and learn more about its history, re-create film sets or explore the region, why not come and stay at La Résidence. Booking directly at www.laresidence-france.com is 15% cheaper than any online travel agent.